Fleet Insurance in Waterloo, Cedar Falls, and Iowa City, IA
If your business owns and operates three or more vehicles as part of its daily operations, you may be eligible for a fleet insurance policy. These plans resemble a commercial auto policy that covers many vehicles at the same time, helping you to meet coverage requirements at an affordable rate.
Industries that can benefit from fleet insurance coverage include:
Government agencies
Construction companies (including those with large construction vehicles like bulldozers)
Taxi services
Vehicle rental companies
Delivery services
Any other company that operates a fleet of vehicles
As of 2013, the Bureau of Transportation Statistics found that there were over eleven million fleet vehicles in service, with government and rental use seeing the most growth over the years.
Fleet Insurance Features: Commercial Auto Insurance
Commercial vehicle policies are a major part of fleet insurance, and they cover the vehicles themselves against damage and loss.
In most cases, fleets that focus on services (handymen, locksmiths, and similar professions) will see the largest discount on their premiums. Vehicles used for retail work, such as delivering food or flowers, usually see a more moderate reduction in premiums. Finally, companies that ship either people or large volumes of products see the lowest reduction, simply because there tends to be more damage in a collision. The current average is more than $20,000 for each incident, and since fleet drivers tend to be on the road far more than the average person, there's a greater likelihood of a collision sooner or later. However, this is when having the proper insurance coverage becomes invaluable.
What's Covered by Fleet Insurance
The main component of fleet insurance is its blanket coverage of vehicles and employees—any employee will be insured while driving any vehicle in your fleet unless they've been specifically excluded from the policy. This is ideal for companies where vehicles frequently have different drivers, as well as companies that have vehicles out on the roads on a regular basis. All fleet insurance policies will meet or exceed the minimum amount of coverage required for commercial vehicles in your area.
If you're not sure whether a vehicle you use qualifies for coverage under a fleet policy (for example, you have a privately owned vehicle that's also used for business purposes), talk a The Sinnott Agency, Inc. agent and they'll let you know if your vehicle is eligible.
1. Hatfield, Gary, and Janis Christensen. "10 Ways to Reduce Fleet Costs." Fleet Financials. March 2014. Accessed April 27, 2016. http://www.fleetfinancials.com/article/story/2014/02/10-ways-to-reduce-fleet-costs.aspx.
2. "Table 1-14: U.S. Automobile and Truck Fleets by Use (Thousands)." Bureau of Transportation Statistics. Accessed April 27, 2016. http://www.rita.dot.gov/bts/sites/rita.dot.gov.bts/files/publications/national_transportation_statistics/html/table_01_14.html_mfd.
3. "Do You Know the True Cost of Fleet Accidents?" Telogis Blog. Accessed April 27, 2016. http://www.telogis.com/blog/cost-of-fleet-accidents/.
Our Locations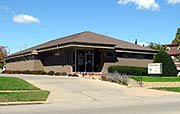 The Sinnott Agency, Inc.
622 West 4th Street
Waterloo, IA 50702
Main office:
319-233-6103
Toll free:
800-897-7391
Fax:
319-234-8133
The Sinnott Agency, Inc. - Iowa City
818 Maiden LN
Iowa City, IA 52240
Main office:
319-341-6025
Fax:
319-234-8133
Testimonials
We were with the same insurance company for over 20 years and recently switched over to the Sinnott Agency. Not only did our rates go down, but our coverage increased. Very happy with our decision!
The family place that takes care of your insurance needs!
We have used The Sinnott Agency Inc. for years and they have been great both for personal and business needs. A true asset to any individual or company.
Since moving to the Cedar Valley I have had both a personal & professional relationship with the Sinnott agency. They have performed well above the standard set by other agencies and look forward to many more years together.
Best place in town for your insurance needs.
Top notch personal service.
Best place to have insurance, period.