Garage Insurance in Waterloo, Cedar Falls, and Iowa City, IA
Garage insurance protects businesses with garage facilities from all kinds of risks, such as injuries, property damage, and human mistakes. Without this insurance, a small business' reputation can be seriously tarnished and hard-earned money will go not to profits, but to payouts.
Garage liability insurance mostly applies to towing businesses and service stations that help protect customers' cars and trucks while they are serviced or held. For instance, if a customer's vehicle is damaged due to the business' negligence, the vehicle would be covered under a garage insurance policy.

Some of the more common kinds of garage insurance are:
Body Shop Insurance
Repair Shop Insurance
Tow Truck Insurance
Transmission Shop Insurance
Garage Insurance Features
Garage liability coverage is another insurance type available to small businesses. It provides liability coverage for any accidents that may happen as a result of your day-to-day garage operations. These accidents may result in bodily injury, personal injury or property damage.
A business owners' policy (BOP) is an option small businesses have when looking into garage-related insurance. It is perfect for individuals who need a bit more than the basic liability because business owners' policy (BOP) offers protection for incidents like identity theft coverage and loss of income.
Workers' compensation insurance covers medical costs, rehabilitation expenses and any lost wages an employee might experience after getting ill or injured on the job. It also provides financial support to the family of any garage employee who dies from a job-related injury or illness.
With all that garage insurance has to offer, many small auto-related businesses make the choice to purchase this valuable protection. You can do it, too. Give The Sinnott Agency, Inc. a call. We will give you a quote and tell you more about what this insurance can do for you and your small business. Get in touch with us today!
Our Locations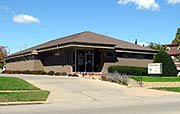 The Sinnott Agency, Inc.
622 West 4th Street
Waterloo, IA 50702
Main office:
319-233-6103
Toll free:
800-897-7391
Fax:
319-234-8133
The Sinnott Agency, Inc. - Iowa City
818 Maiden LN
Iowa City, IA 52240
Main office:
319-341-6025
Fax:
319-234-8133
Testimonials
We were with the same insurance company for over 20 years and recently switched over to the Sinnott Agency. Not only did our rates go down, but our coverage increased. Very happy with our decision!
The family place that takes care of your insurance needs!
We have used The Sinnott Agency Inc. for years and they have been great both for personal and business needs. A true asset to any individual or company.
Since moving to the Cedar Valley I have had both a personal & professional relationship with the Sinnott agency. They have performed well above the standard set by other agencies and look forward to many more years together.
Best place in town for your insurance needs.
Top notch personal service.
Best place to have insurance, period.