Snow Plow Insurance in Waterloo, Cedar Falls, and Iowa City, IA
Snow plows provide a vital service in places where snow can accumulate enough to block the roads. Whether helping the average employee get to work or allowing emergency services to reach people who badly need help, snow plowing is near the top of many cities' necessary services during the winter months.
Snow plows face a particular set of vulnerabilities that most other vehicles don't. Aside from needing to head out onto slick surfaces (which is dangerous enough by itself), plows have to deal with problems like threats hidden beneath the snow, wear and tear from pushing snow aside, and the increased likelihood of collisions with other vehicles.
Snow Plow Insurance Features
As the owner of a snow plow business, you're trying to help your community—and any interruption in your ability to plow snow, like damage to a vehicle or plow, could leave you scrambling to find replacement services and leave your company without any contracts. Snow plow insurance can help cover costs and ensure that you can get back to work as soon as possible. This type of coverage is so important that some areas actually require you to have it before you can apply for a permit to operate your plow on a commercial basis.
The Sinnott Agency, Inc. agents are always available to advise you on snow plow insurance, including making sure you are properly covered during active plowing months, and aren't paying for coverages you don't need in the summer. For example, maintain comprehensive coverage on your vehicle and plow all year, so that it's protected even if damage occurs in storage, but reconsider at other parts of your policy, like liability, when the plow is not being driven. Contact our office or request a quote today.
Our Locations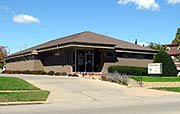 The Sinnott Agency, Inc.
622 West 4th Street
Waterloo, IA 50702
Main office:
319-233-6103
Toll free:
800-897-7391
Fax:
319-234-8133
The Sinnott Agency, Inc. - Iowa City
818 Maiden LN
Iowa City, IA 52240
Main office:
319-341-6025
Fax:
319-234-8133
Testimonials
We were with the same insurance company for over 20 years and recently switched over to the Sinnott Agency. Not only did our rates go down, but our coverage increased. Very happy with our decision!
The family place that takes care of your insurance needs!
We have used The Sinnott Agency Inc. for years and they have been great both for personal and business needs. A true asset to any individual or company.
Since moving to the Cedar Valley I have had both a personal & professional relationship with the Sinnott agency. They have performed well above the standard set by other agencies and look forward to many more years together.
Best place in town for your insurance needs.
Top notch personal service.
Best place to have insurance, period.