Business Catastrophe Insurance in Waterloo, Cedar Falls, and Iowa City, IA
Business catastrophe insurance is an additional level of coverage that goes above and beyond the standard business policy most small and medium-sized companies have. As a business owner, you want to be absolutely sure that your investments are protected in case of unforeseen calamity—nobody wants to see all of their hard work destroyed by fire, theft, or anything else. However, every policy has its limits, and if the damage to your business is so severe that it exceeds the limits of your current business or property coverage, you'll be expected to pay the difference yourself.
Business Catastrophe Insurance Features
Business catastrophe insurance comes into play to prevent you from having to pay the excessive cost of a catastrophic loss. If you exceed the normal limits and the claim is for a qualifying event, this coverage will provide an additional level of protection and reduce or eliminate the portion of the claim that you would otherwise have to pay out of your own pocket. Here are the important things to know about this policy:
Business catastrophe insurance coverage amounts are proportional to individual business types and indemnity periods. Most companies purchase this policy and get at least one million dollars of coverage, just to be absolutely sure they have the protection they need if something goes extraordinarily wrong. Sometimes these extraordinary situations can arise due to the nature of a certain business, or because of a freak accident or natural disaster. One of our agents can help you determine an appropriate coverage length and amount.
This coverage may protect you from things your normal policies do not. While the specifics depend on the plan you get, business catastrophe insurance is usually offered as an umbrella policy that can cover almost anything that might occur.
This is the last resort, not the first. If a claim is covered by your normal policy and doesn't exceed those limits, your business catastrophe policy will not be utilized. Its main purpose is protecting you against particularly large claims, just in case something goes wrong and you truly need the extra protection.
For more information about business catastrophe insurance, give The Sinnott Agency, Inc. a call today.
Our Locations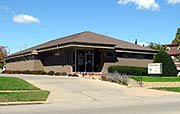 The Sinnott Agency, Inc.
622 West 4th Street
Waterloo, IA 50702
Main office:
319-233-6103
Toll free:
800-897-7391
Fax:
319-234-8133
The Sinnott Agency, Inc. - Iowa City
818 Maiden LN
Iowa City, IA 52240
Main office:
319-341-6025
Fax:
319-234-8133
Testimonials
We were with the same insurance company for over 20 years and recently switched over to the Sinnott Agency. Not only did our rates go down, but our coverage increased. Very happy with our decision!
The family place that takes care of your insurance needs!
We have used The Sinnott Agency Inc. for years and they have been great both for personal and business needs. A true asset to any individual or company.
Since moving to the Cedar Valley I have had both a personal & professional relationship with the Sinnott agency. They have performed well above the standard set by other agencies and look forward to many more years together.
Best place in town for your insurance needs.
Top notch personal service.
Best place to have insurance, period.