Inland Marine Insurance in Waterloo, Cedar Falls, and Iowa City, IA
Off-Site Protection for Your Valued Assets
Your products and equipment are the backbone of your success as a company. From transported goods and hauled equipment to storage items and even construction tools, it is important to keep your investments protected. With Inland Marine coverage, you can avoid damages sustained in the event of accidents, theft, vandalism, or total loss.

At The Sinnott Agency, Inc., we are dedicated to providing the coverage your business needs for the asset protection it deserves. Our Inland Marine policy insures that when your business is on the move, we will protect certain items, such as:
Transported Property
Computer Equipment and Data
Contractor's Tools
Artwork
Buildings Under Construction
What Inland Marine Can Do for Your Business
No matter what business you are in, an accident can happen at any time. That is why it is important to have an Inland Marine policy from The Sinnott Agency, Inc. to provide your business with the appropriate coverage it needs during transit.

Since Inland Marine covers items outside of your standard Business Property Insurance policy, having additional coverage to keep your equipment insured off-site is critical. This coverage can also extend to protect your business' goods or equipment when transported by ocean and air, also known as Ocean Marine.

Contact an Inland Marine specialist at The Sinnott Agency, Inc. today to find out how your business can insure its most valuable assets while working or traveling off-site.
Our Locations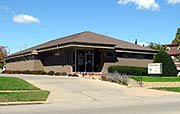 The Sinnott Agency, Inc.
622 West 4th Street
Waterloo, IA 50702
Main office:
319-233-6103
Toll free:
800-897-7391
Fax:
319-234-8133
The Sinnott Agency, Inc. - Iowa City
818 Maiden LN
Iowa City, IA 52240
Main office:
319-341-6025
Fax:
319-234-8133
Testimonials
We were with the same insurance company for over 20 years and recently switched over to the Sinnott Agency. Not only did our rates go down, but our coverage increased. Very happy with our decision!
The family place that takes care of your insurance needs!
We have used The Sinnott Agency Inc. for years and they have been great both for personal and business needs. A true asset to any individual or company.
Since moving to the Cedar Valley I have had both a personal & professional relationship with the Sinnott agency. They have performed well above the standard set by other agencies and look forward to many more years together.
Best place in town for your insurance needs.
Top notch personal service.
Best place to have insurance, period.