Office Insurance in Waterloo, Cedar Falls, and Iowa City, IA
If your office space and the property therein is damaged, office insurance can provide reimbursement for those costs and allow you to continue operating.
As a business owner, you want to protect all the hard work you've put into creating a functioning company. A business isn't just the products you put on the shelves—it's your intellectual property, your office space, and your computers and valuable equipment. Problems with any of these elements could result in losses, and that's why having office insurance is so important.
Office Insurance Package Features
Most office insurance plans include the following. The Sinnott Agency, Inc. agents can help you determine which coverages apply to you and your business, therefore helping you create a policy that perfectly fits your office insurance needs.
Commercial Real Estate Insurance: This policy covers your property and income, including the cost of repairs, replacements, and any interruptions of your business.
Equipment Insurance: If your company uses equipment (computers, manufacturing machines, etc.), a breakdown could quickly grind your business to a halt. This policy offers reimbursement for your expenses, allowing you to get your equipment repaired without worrying about the cost.
Cyber Liability Insurance: Technology is about more than having a few computers in the office—it's about software, data (including customer information), and even the external services your company might rely on. Cyber liability insurance can reimburse you for mistakes and losses, like a data breach, that occur as a result of using technology.
Different companies have different insurance needs, so don't hesitate to talk to one of our agents and ask if there's anything else that should be added to your office insurance policy. Be sure to let us know about anything particularly innovative that you're doing with your building, since that might not be covered by a standard policy. We want you to be able to move forward with the confidence that comes from knowing your office is protected.
Our Locations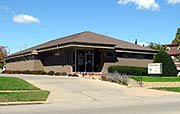 The Sinnott Agency, Inc.
622 West 4th Street
Waterloo, IA 50702
Main office:
319-233-6103
Toll free:
800-897-7391
Fax:
319-234-8133
The Sinnott Agency, Inc. - Iowa City
818 Maiden LN
Iowa City, IA 52240
Main office:
319-341-6025
Fax:
319-234-8133
Testimonials
We were with the same insurance company for over 20 years and recently switched over to the Sinnott Agency. Not only did our rates go down, but our coverage increased. Very happy with our decision!
The family place that takes care of your insurance needs!
We have used The Sinnott Agency Inc. for years and they have been great both for personal and business needs. A true asset to any individual or company.
Since moving to the Cedar Valley I have had both a personal & professional relationship with the Sinnott agency. They have performed well above the standard set by other agencies and look forward to many more years together.
Best place in town for your insurance needs.
Top notch personal service.
Best place to have insurance, period.