Farm Equipment Insurance in Waterloo, Cedar Falls, and Iowa City, IA
Keep Your Equipment Running Strong
As a farmer, you rely on your equipment to run like clockwork. But in the event of equipment breakdown or failure, it can be difficult and expensive to repair. Damaged or broken equipment can easily cost thousands of dollars to replace, which is why Farm Equipment Insurance is just as important to your agribusiness as the equipment itself.

At The Sinnott Agency, Inc., we are dedicated to the success of your farm or ranch, and we understand that equipment breakdown can mean lost income. That is why we design comprehensive insurance policies to keep farms running smoothly in the event of an accident. Equipment breakdown coverage goes beyond your standard Property Insurance policy to protect against damage caused by power surges, mechanical breakdown, motor burnout, and even operator error.

Equipment and machinery included under a Farm Equipment Insurance policy includes, but is not limited to:
Heating and Cooling Systems
Production Equipment
Boilers, Pressure Vessels, and Water Heaters
Pumps
Electrical Distribution Systems
Refrigeration Equipment
Contact The Sinnott Agency, Inc. today to find out how a Farm Equipment Insurance policy can keep the productivity of your farm moving.
Our Locations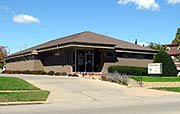 The Sinnott Agency, Inc.
622 West 4th Street
Waterloo, IA 50702
Main office:
319-233-6103
Toll free:
800-897-7391
Fax:
319-234-8133
The Sinnott Agency, Inc. - Iowa City
818 Maiden LN
Iowa City, IA 52240
Main office:
319-341-6025
Fax:
319-234-8133
Testimonials
We were with the same insurance company for over 20 years and recently switched over to the Sinnott Agency. Not only did our rates go down, but our coverage increased. Very happy with our decision!
The family place that takes care of your insurance needs!
We have used The Sinnott Agency Inc. for years and they have been great both for personal and business needs. A true asset to any individual or company.
Since moving to the Cedar Valley I have had both a personal & professional relationship with the Sinnott agency. They have performed well above the standard set by other agencies and look forward to many more years together.
Best place in town for your insurance needs.
Top notch personal service.
Best place to have insurance, period.