Farm Umbrella Insurance in Waterloo, Cedar Falls, and Iowa City, IA
Extra Security to Protect your Hard Work
The Sinnott Agency, Inc. provides umbrella insurance policies to farms, ranches, and agribusiness operations facilities in Waterloo, Cedar Falls , Iowa City, North Liberty , Waverly, Coralville , and surrounding areas.
The Sinnott Agency, Inc. knows that your farm is your business. And like any business owner, you're faced with a certain amount of risk and uncertainty in your day-to-day operations. If an accident happens, in most cases, your standard farm owners insurance liability should take care of you. But when serious situations arise, you'll want to make sure your business is protected.
Chances are your basic policy liability limits are not enough to cover every potential accident - including serious accidents that come with serious expenses. A Farm Umbrella policy from The Sinnott Agency, Inc. picks up where your other liability coverage stops. It can be an affordable way to provide an extra layer of protection against claims of bodily injury and property damage in scenarios such as:
An accident on your farm that leaves multiple workers in need of costly medical attention
If a farm animal escapes and causes an accident or serious damage to another's property
If someone sues you for damages resulting from an illness from your products
?At The Sinnott Agency, Inc., our team of farm insurance specialists is dedicated to keeping your farm up and running, even after an accident. With the right farm umbrella coverage options, your business won't have to miss a beat. And, as always, with our 24/7 dedicated claims service, you can rest assured that our professionals will be there for you when you need it most.
Our Locations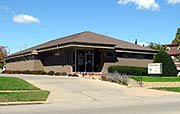 The Sinnott Agency, Inc.
622 West 4th Street
Waterloo, IA 50702
Main office:
319-233-6103
Toll free:
800-897-7391
Fax:
319-234-8133
The Sinnott Agency, Inc. - Iowa City
818 Maiden LN
Iowa City, IA 52240
Main office:
319-341-6025
Fax:
319-234-8133
Testimonials
We were with the same insurance company for over 20 years and recently switched over to the Sinnott Agency. Not only did our rates go down, but our coverage increased. Very happy with our decision!
The family place that takes care of your insurance needs!
We have used The Sinnott Agency Inc. for years and they have been great both for personal and business needs. A true asset to any individual or company.
Since moving to the Cedar Valley I have had both a personal & professional relationship with the Sinnott agency. They have performed well above the standard set by other agencies and look forward to many more years together.
Best place in town for your insurance needs.
Top notch personal service.
Best place to have insurance, period.