Traditional & Roth IRAs in Waterloo, Cedar Falls, and Iowa City, IA
Invest in Yourself for a Better Retirement.
A comfortable retirement is the achievement of a lifetime. It's a way to reward your decades of hard work and financial planning with the assurance that you can relax and enjoy your golden years.

The Sinnott Agency, Inc. is all about providing various options for your retirement needs. We realize that each individual has his or her own unique financial goals for the future, and it's our job to help you get on the right path. That's why we offer retirement plans like Individual Retirement Accounts, or IRAs, to turn your goals into a reality.
Types of IRAs
An IRA is an account in which individuals set aside money each year that builds over time. The two main types of IRAs are: Traditional IRAs and Roth IRAs.

Traditional IRAs are tax-deferred accounts where any contributions you make may be tax-deductible. Once you withdrawal from your account after age 59 1/2, your earnings are then taxed.

Roth IRAs are similar to Traditional IRAs, except your contributions are not tax-deductible. Whenever you choose to withdrawal your earnings, you do not have to wait until age 50 1/2, and you are not taxed.

Other kinds of IRAs including Rollover IRAs, Inherited IRAs, and more are available based on your individual needs, and qualifications do apply.

At The Sinnott Agency, Inc., we'll work with you one-on-one to assist you achieving your long-term financial goals. Contact one of our knowledgeable specialists today to learn more about how an IRA can help you realize your retirement dreams.

Our Locations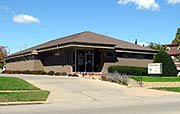 The Sinnott Agency, Inc.
622 West 4th Street
Waterloo, IA 50702
Main office:
319-233-6103
Toll free:
800-897-7391
Fax:
319-234-8133
The Sinnott Agency, Inc. - Iowa City
818 Maiden LN
Iowa City, IA 52240
Main office:
319-341-6025
Fax:
319-234-8133
Testimonials
We were with the same insurance company for over 20 years and recently switched over to the Sinnott Agency. Not only did our rates go down, but our coverage increased. Very happy with our decision!
The family place that takes care of your insurance needs!
We have used The Sinnott Agency Inc. for years and they have been great both for personal and business needs. A true asset to any individual or company.
Since moving to the Cedar Valley I have had both a personal & professional relationship with the Sinnott agency. They have performed well above the standard set by other agencies and look forward to many more years together.
Best place in town for your insurance needs.
Top notch personal service.
Best place to have insurance, period.