Identity Theft Insurance in Waterloo, Cedar Falls, and Iowa City, IA
Get Back to Being Yourself
Identity theft is the act of stealing someone's personal information and using this information to impersonate the individual. With one's personal information a thief can steal from accounts, establish phony insurance policies, open unauthorized credit cards, and obtain unauthorized loans. These actions require protection on the parts of information holders. Most of us are information holders and therefore need protection.
At The Sinnott Agency, Inc. we have a robust identity theft insurance program, and through this program we provide protection that people need in order to recover if their personal information is stolen. We tailor solutions to individual clients through this program and we'll tailor a solution to you. You'll be fully covered for the right price as a result, and if your information is ever stolen, you'll never be responsible for paying the costs of this theft.
Identity Theft Insurance Coverage Details
Identity theft insurance coverages are designed to mitigate risk fully. These coverages help prevent theft and they help victims of theft recover. Data screenings, emergency cash advances, and document replacements are just a few of the coverages that identity theft insurance provides. At The Sinnott Agency we work exclusively with Allied in order to bring you the greatest possible selection of identity theft insurance options, which include:
Attorney Fees
Costs of Certified Mail
Loan Re-Application Fees
Costs of Long Distance Phone Calls
Reimbursement for Lost Income
Costs of Executing Affidavits
Data Screenings
Phish Activity Monitoring
Credit Card Monitoring
Document Replacement
In addition to the coverages above we offer identity theft-prevention and identity theft-recovery services. These services include:
Round-the-clock assistance in the cases of thefts
One-on-one Identity Fraud assessments
Credit damage mitigation (contacting credit bureaus included)
Emergency Communications with relevant creditors, banks, and agencies
Document Replacement (driver's licenses, passports, and social security cards included)
Emergency cash advances (whether you're away from home or not)
*Restrictions and limits apply
In some cases it's possible to combine identity theft insurance with other types of insurance. Doing so saves time and money, and if combining your identity theft insurance with another type of insurance is possible, we'll do it for you. Just contact an agent to learn more.
How will we help you?
We believe in protecting your identity first and foremost. If your privacy is compromised and your personal information is used to benefit a thief, we'll ensure that the costs of the compromise are minimal or non-existent. We'll do this by providing you with the most complete insurance policy possible and by delivering services. We'll provide products and deliver services in cost-efficient ways.
Once the policy that your purchase is in place we'll monitor it regularly and we'll keep you informed. We actively manage risk, so the chances that you'll suffer losses or that you'll need to use your insurance will be reduced or eliminated. If insurance is used and you file a claim, we'll manage the claim.
Please contact us or give us a call to learn more about your identity theft insurance options. You can request a quote to get started.
Additional Identity Theft Insurance Information:
We are proud to provide identity theft insurance in Waterloo, Cedar Falls, Iowa City, North Liberty, Waverly, and Coralville, IA. We also serve other areas in the state and we serve other states.
Our Locations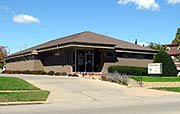 The Sinnott Agency, Inc.
622 West 4th Street
Waterloo, IA 50702
Main office:
319-233-6103
Toll free:
800-897-7391
Fax:
319-234-8133
The Sinnott Agency, Inc. - Iowa City
818 Maiden LN
Iowa City, IA 52240
Main office:
319-341-6025
Fax:
319-234-8133
Testimonials
We were with the same insurance company for over 20 years and recently switched over to the Sinnott Agency. Not only did our rates go down, but our coverage increased. Very happy with our decision!
The family place that takes care of your insurance needs!
We have used The Sinnott Agency Inc. for years and they have been great both for personal and business needs. A true asset to any individual or company.
Since moving to the Cedar Valley I have had both a personal & professional relationship with the Sinnott agency. They have performed well above the standard set by other agencies and look forward to many more years together.
Best place in town for your insurance needs.
Top notch personal service.
Best place to have insurance, period.