Motorcycle Insurance in Waterloo, Cedar Falls, and Iowa City, IA
Protection for the Open Road
Warm weather brings out the wild side of many IA drivers, with a noticeable increase in motorcycle traffic. Whether cruising the back roads or heading to the coast, holding the proper insurance coverage is essential for motorcyclists, as danger could be around the bend.
At The Sinnott Agency, Inc., we understand the exposures facing motorcyclists and our insurance package can be customized to fit a variety of risks. We routinely insure riders and their bikes in Waterloo, Cedar Falls , Iowa City,and the surrounding areas.
Insuring Motorcyclists with Collision Coverage, Property Damage Liability, and More
From accidents to theft, motorcyclists face a variety of risks. Our coverage options can protect a variety of motorcycles, and we can also insure accessories and equipment.
Our coverage offerings for motorcycles includes, but is not limited to:
Collision Coverage
Theft
Vandalism
Damage caused by Uninsured or Underinsured Motorists
Bodily Injury Liability
Property Damage Liability
Medical Payments Coverage
Guest Passenger Liability
Often, there is a misconception that motorcycles are simply added to an existing auto policy. By working together with each client, we can ensure that the proper coverage is in place. Please request a quote to begin working with a friendly agent.
Knowledgeable Agents Protecting Clients
Once the needs of our client have been determined, we turn to trusted carriers to secure coverage. Before hitting the open road, contact us to learn more about our products for motorcycles.
Additional Resources
Our Locations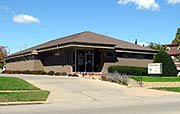 The Sinnott Agency, Inc.
622 West 4th Street
Waterloo, IA 50702
Main office:
319-233-6103
Toll free:
800-897-7391
Fax:
319-234-8133
The Sinnott Agency, Inc. - Iowa City
818 Maiden LN
Iowa City, IA 52240
Main office:
319-341-6025
Fax:
319-234-8133
Testimonials
We were with the same insurance company for over 20 years and recently switched over to the Sinnott Agency. Not only did our rates go down, but our coverage increased. Very happy with our decision!
The family place that takes care of your insurance needs!
We have used The Sinnott Agency Inc. for years and they have been great both for personal and business needs. A true asset to any individual or company.
Since moving to the Cedar Valley I have had both a personal & professional relationship with the Sinnott agency. They have performed well above the standard set by other agencies and look forward to many more years together.
Best place in town for your insurance needs.
Top notch personal service.
Best place to have insurance, period.