in Waterloo, Cedar Falls, and Iowa City, IA
Commercial real estate insurance protects you from losses caused by damage to property assets. Most businesses are vulnerable to the same threats as every other building—fire, flooding, vandalism, or even being struck by a vehicle that goes out of control. Many of these problems are something that cannot be reasonably prevented, making them eligible for coverage that can help repair the building or allow your company to move to a new location.
Commercial Real Estate Insurance Features
As the owner of a business, you know how difficult it is to run a smooth operation. The last thing you need is a disaster that damages your workplace so badly that you can no longer continue operating. Commercial real estate insurance makes the crisis something you can handle. Before you start shopping, though, here are a few things to keep in mind:
The first thing you should do is take stock of the company's physical assets. This includes your building, any paper records, inventory, office equipment, signs located outside, and anything else that qualifies as a physical asset.
You may not need to insure everything the business owns. If you decide something is not worth insuring, removing it from your policy could lower your monthly premiums and make it easier to insure what truly matters.
Most policies cover either the replacement cost (RC) or the actual cash value (ACV) of the insured items. Policies that include replacement cost are more expensive, but allow for full replacement without calculating any depreciation. Actual cash value policies consider the loss of value over time, and factor this difference in to any claims on the policy.
If you're not sure which policy options make the most sense for your company, ask one of our agents for more information and they'll help you make a decision.
Our Locations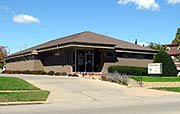 The Sinnott Agency, Inc.
622 West 4th Street
Waterloo, IA 50702
Main office:
319-233-6103
Toll free:
800-897-7391
Fax:
319-234-8133
The Sinnott Agency, Inc. - Iowa City
818 Maiden LN
Iowa City, IA 52240
Main office:
319-341-6025
Fax:
319-234-8133
Testimonials
We were with the same insurance company for over 20 years and recently switched over to the Sinnott Agency. Not only did our rates go down, but our coverage increased. Very happy with our decision!
The family place that takes care of your insurance needs!
We have used The Sinnott Agency Inc. for years and they have been great both for personal and business needs. A true asset to any individual or company.
Since moving to the Cedar Valley I have had both a personal & professional relationship with the Sinnott agency. They have performed well above the standard set by other agencies and look forward to many more years together.
Best place in town for your insurance needs.
Top notch personal service.
Best place to have insurance, period.