Equipment Insurance in Waterloo, Cedar Falls, and Iowa City, IA
Most businesses rely on common or specialized forms of equipment to complete work and create products. You cannot work if your equipment is not working, and equipment that operates poorly can affect the quality of your work. Equipment vital to your business success needs to be protected with insurance.

Consider whether or not your business could afford to replace stolen equipment or critical business machines damaged by fires, floods, and other weather emergencies, such as tornadoes. Without insurance, even simple events like a power surge or an employee error could cause major damage and imperil your business.
Equipment Insurance Features
Equipment insurance covers you when equipment breaks down. The insurance can cover the cost to repair or replace the equipment, as well as other costs involved in getting your business operational again. Your computers and electronics, for instance, are considered equipment and can be covered in the same policy.
Loss of business income should be part of a proper policy in case loss occurs due to equipment failure. Insurance can cover the cost to replace spoiled stock, or raw material that was ruined by an equipment malfunction. Equipment insurance or business interruption insurance can cover loss of income due to something as indirect as a website going down for an extended period, if you depend on the site for customer orders.
Call a The Sinnott Agency, Inc. agents today to find out how we can help you make sure all your equipment is covered. We can show you how to keep your business running in the event of an equipment failure. Ultimately, we will help you stay in business when your equipment threatens to put you out of business.
Our Locations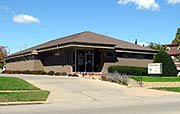 The Sinnott Agency, Inc.
622 West 4th Street
Waterloo, IA 50702
Main office:
319-233-6103
Toll free:
800-897-7391
Fax:
319-234-8133
The Sinnott Agency, Inc. - Iowa City
818 Maiden LN
Iowa City, IA 52240
Main office:
319-341-6025
Fax:
319-234-8133
Testimonials
We were with the same insurance company for over 20 years and recently switched over to the Sinnott Agency. Not only did our rates go down, but our coverage increased. Very happy with our decision!
The family place that takes care of your insurance needs!
We have used The Sinnott Agency Inc. for years and they have been great both for personal and business needs. A true asset to any individual or company.
Since moving to the Cedar Valley I have had both a personal & professional relationship with the Sinnott agency. They have performed well above the standard set by other agencies and look forward to many more years together.
Best place in town for your insurance needs.
Top notch personal service.
Best place to have insurance, period.