Comprehensive Coverage in Waterloo, Cedar Falls, and Iowa City, IA
Security On and Off the Road.
Your Auto Insurance policy already gives you peace of mind behind the wheel. But more than just accidents happen, and with the right policy from The Sinnott Agency, Inc., you can make sure that the security of your automobile doesn't stop the moment you pull into the driveway. Comprehensive Coverage insures your vehicle and equipment against damage and expenses that result from something other than a collision.

At The Sinnott Agency, Inc., we know that life is full of surprises, and with Comprehensive Coverage you can be prepared for all of them. Our team of asset protection specialists can prepare a plan that works for you with a variety of impressive features to insure your car against damages or loss resulting from:
Theft or Larceny
Vandalism and Glass Breakage
Fire Damage
Hail, Water, or Flood Damage
Hitting a Deer or Other Animal
Damage from Falling or Flying Objects
Other Non-Collision Related Services
In addition to Comprehensive, The Sinnott Agency, Inc. also can offer other non-collision oriented services for you and your car, like Roadside Assistance and Diminishing Deductible.
Roadside Assistance provides you with advantages like lockout assistance, jump starts, and towing up to 15 miles – all in one convenient package.
Diminishing Deductible commends you for being an accident and violation-free driver with an annual credit reward towards your collision deductible.
Our Locations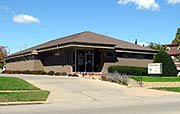 The Sinnott Agency, Inc.
622 West 4th Street
Waterloo, IA 50702
Main office:
319-233-6103
Toll free:
800-897-7391
Fax:
319-234-8133
The Sinnott Agency, Inc. - Iowa City
818 Maiden LN
Iowa City, IA 52240
Main office:
319-341-6025
Fax:
319-234-8133
Testimonials
We were with the same insurance company for over 20 years and recently switched over to the Sinnott Agency. Not only did our rates go down, but our coverage increased. Very happy with our decision!
The family place that takes care of your insurance needs!
We have used The Sinnott Agency Inc. for years and they have been great both for personal and business needs. A true asset to any individual or company.
Since moving to the Cedar Valley I have had both a personal & professional relationship with the Sinnott agency. They have performed well above the standard set by other agencies and look forward to many more years together.
Best place in town for your insurance needs.
Top notch personal service.
Best place to have insurance, period.