Uninsured & Underinsured Motorist Coverage in Waterloo, Cedar Falls, and Iowa City, IA
Not Every Driver is a Responsible Driver.
As a safe driver, obeying street signs, speed limits, and always using your turn signals is simply part of the routine. And if you're ever involved in an accident, your insurance policy typically keeps you protected.

Unfortunately, there are those on the road who don't share the same safety precautions as you, and if you're involved in an accident with a motorist without the right coverage, you may have to take care of any medical payments, damages, or any other expenses with money from your own pocket.
It's Important to be Prepared for Everything
Uninsured/Underinsured Motorist Coverage gives you the assurance you need knowing that your medical expenses will be covered. In cases where the driver at fault does not have adequate liability to pay for your injuries and damages, you'll be compensated for the amount in which you are legally entitled to – in regards to you, your passengers, and your vehicle. Uninsured/Underinsured Motorist Protection may also take care of property damage in some states.

Since Uninsured/Underinsured Motorist Coverage is a separate purchase from your typical Auto Insurance policy, it's important to contact The Sinnott Agency, Inc. to find out how you can be prepared for any situation on the road.
Our Locations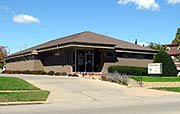 The Sinnott Agency, Inc.
622 West 4th Street
Waterloo, IA 50702
Main office:
319-233-6103
Toll free:
800-897-7391
Fax:
319-234-8133
The Sinnott Agency, Inc. - Iowa City
818 Maiden LN
Iowa City, IA 52240
Main office:
319-341-6025
Fax:
319-234-8133
Testimonials
We were with the same insurance company for over 20 years and recently switched over to the Sinnott Agency. Not only did our rates go down, but our coverage increased. Very happy with our decision!
The family place that takes care of your insurance needs!
We have used The Sinnott Agency Inc. for years and they have been great both for personal and business needs. A true asset to any individual or company.
Since moving to the Cedar Valley I have had both a personal & professional relationship with the Sinnott agency. They have performed well above the standard set by other agencies and look forward to many more years together.
Best place in town for your insurance needs.
Top notch personal service.
Best place to have insurance, period.