Condo Insurance in Waterloo, Cedar Falls, and Iowa City, IA
Protect More Than Just Your Possessions.
For many, a condo is a great alternative to living in an apartment or a home, and can offer more space, more living area, and more amenities. But since a condo is a special kind of residence, it requires its own insurance policy.

With Condo Insurance from The Sinnott Agency, Inc., you can extend your protection past that of what your condo community provides. It helps pay for the replacement of your personal belongings while offering basic liability to cover bodily injury or property damage. And unlike Renters Insurance, Condo Owners Insurance covers any damage done to the interior of your unit. For any interior damage, your insurance may be used to pay for the expense of fixing or replacing items like drywall, flooring, light fixtures, and more.

A Condominium Insurance policy includes other great features like guest medical protection, which pays for the medical expenses of friends and visitors who are injured on your property. In the event a fire or other disaster puts your condo out of commission, additional living expenses coverage may reimburse you for cost of temporary housing while your unit is being fixed.

Contact a specialist at The Sinnott Agency, Inc. today to determine the right amount of coverage you need to keep your condo insured.
Our Locations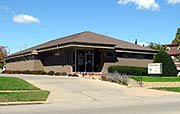 The Sinnott Agency, Inc.
622 West 4th Street
Waterloo, IA 50702
Main office:
319-233-6103
Toll free:
800-897-7391
Fax:
319-234-8133
The Sinnott Agency, Inc. - Iowa City
818 Maiden LN
Iowa City, IA 52240
Main office:
319-341-6025
Fax:
319-234-8133
Testimonials
We were with the same insurance company for over 20 years and recently switched over to the Sinnott Agency. Not only did our rates go down, but our coverage increased. Very happy with our decision!
The family place that takes care of your insurance needs!
We have used The Sinnott Agency Inc. for years and they have been great both for personal and business needs. A true asset to any individual or company.
Since moving to the Cedar Valley I have had both a personal & professional relationship with the Sinnott agency. They have performed well above the standard set by other agencies and look forward to many more years together.
Best place in town for your insurance needs.
Top notch personal service.
Best place to have insurance, period.